Money Management
We make managing your finances even easier with this helpful online banking tool.
Gain control of your finances
Track where you are spending
Set financial goals
Can include your outside accounts
Keeping track of your finances is easier than you realize with Money Management!
View your transactions, see your spending habits, set budgets, view trends, set goals and more.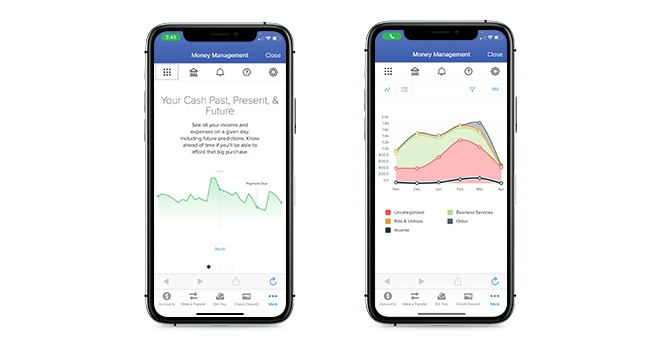 Accounts
Your credit union accounts are automatically added to Money Management. View your loans, credit cards, investments and more. Add your outside accounts with ease to create your full financial picture.
It's easy to stay on top of your spending across all of your accounts. All of your transactions appear here, in one place. Transactions are automatically categorized for you. You can re-categorize, rename or add a memo to each transaction. Some transactions will be "uncategorized." You can sort each transaction quickly by choosing "categorize" when prompted.
How much are you spending on entertainment or groceries each month? Spending categorizes your expenses for a quick total in each piece of the pie chart. The spending pie makes it easier for you to identify your biggest expense as well as dive deeper into the smallest details. Helpful coding carries over into the subcategories and transactions. Use the date selector to view your spending habits over a specific time period. Spending helps you cut out unnecessary expenditures and put that money to good use elsewhere.
Budgets is a visual budget created for you based on your past spending. Adjust it to meet your specific financial goals. The bubbles represent budget categories, allowing you to quickly identify budget categories that are on track or that need some attention. Red indicates that you've exceeded your limit, yellow means that you're at risk of going over budget and green let's you know that you are right on track! Set alerts to help you stay in the green!
View your transaction trends in one convenient location. Trends track your spending over time and allows you to deep dive in multiple ways. See your spending in categories for the past 3 months to 1 year or deep dive into your spending trends for specific months within the selected timeframe.
Debts is a powerful tool to help you set payoff goals and create your debt payoff strategy. Add outside accounts to view all your debts in one convenient location Pay your debt down faster by prioritizing your debts and paying off high-interest debt first.
View your entire net worth by adding all of your accounts – including properties owned and vehicles (other assets) and all liabilities. The the date range selector allows you to view the value over time.
Plan for the future with confidence. Set savings, debt and retirement goals and how much you'll put towards those goals each month. Change amounts to see how long it will take you to reach each goal. Use the time slider to track your goals at a particular time.
Effortlessly manage your cash flow. See all your income and expenses on a given day, including future predictions. Know ahead of time if you'll be able to afford that big purchase.