Get More from Your New Visa® Credit Card
We're enhancing your Firefighters First Visa® credit card. Enjoy more control, security and convenience.
What this means to you:
Continue to use your current credit card as usual
Keep the current Number that appears on your card for purchases
Earn unlimited cashback rewards for purchases
View your available card balance within online banking
Update your payee Payment Address
If you use another financial institution's Bill Pay service you will need to change the address. Send payments to: Firefighters First Credit Union, P.O. Box 60890, Los Angeles, CA 90060-0890.
Finding Your NEW Account Number
You now have two important numbers related to your Visa card: the number that appears on the card that you use to make purchases, and a second Account Number for submitting payments.
Include this new account number on payment checks
Update your payee account number for the card if you use another financial institution's Bill Pay service or make ACH payments
It's easy to find your new credit card Account Number:
Login to online banking
Select your Credit Card Account to view your Account History
Use the dropdown arrow to view Account Details
Find your Account Number listed second from the top
You can also find this number on your credit card statement.
---
Online Banking
You can view your credit card account details under the Accounts tab.
Find your running balance displayed in online banking. Look in the last column of Transaction History
See transactions in real time. When you make a transaction (i.e. cash advance, payment, point-of-sale), it will be posted immediately, and the message Transaction Pending will disappear
See your Available Balance update immediately
---
Credit Card Statements
Electronic Statements will be available through Statements tab, in the same place general account statements are found.
Say Hello to the FireFirstCard app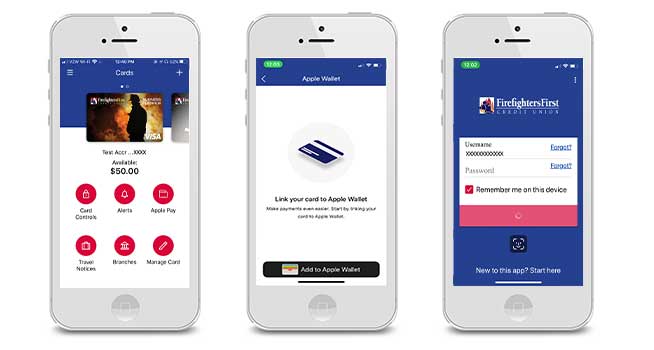 The FireFirstCard app makes it simple to keep your purchases secure and in line with your budget goals. You can even check your available credit.
Place Card Controls to:
Flag purchases that reach an amount you set
Know when you come close to your credit limit
Turn off your card if misplaced. Turn on your card when found
Submit travel notifications
Get Alerts for:
Online or phone purchases made when "card not present"
Gas station charges
Declined transactions
International purchases
ATM withdrawals
Make Convenient Purchases Using Your Visa® Credit Card and Your Digital Wallet1
Make contactless purchases using your mobile phone or smart watch. Use your device's digital wallet app to load your card and start making purchases without inserting or swiping your card, see detailed instructions here.
Mobile Phone Apps
Apple Pay®
Google Pay™
Samsung Pay™
LG Pay™
Smart Watch Apps
Apple Pay®
Fitbit Pay™
Garmin Pay™
1 Google Pay is a trademark of Google Inc. Apple, the Apple logo, iPhone, and iPad are trademarks of Apple Inc., registered in the U.S. and other countries. Apple Pay and Touch ID are trademarks of Apple Inc. Samsung Pay is a trademark of Samsung Electronics Co., Ltd. LG Pay is a trademark of LG. Fitbit Pay is a trademark of Fitbit. Garmin Pay is a trademark of Garmin. All third-party companies, products and service names used are for identification purposes only. All service marks, trademarks and registered trademarks are the property of their respective owners. VISA® Checkout is a trademark of VISA®.